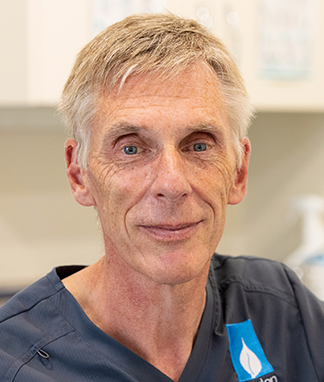 Mark Shimmin
Principal Dentist
BDS (London) DPDS (Bristol) BSc(London)
GDC Number: 62462
I grew up in Maidenhead, my family all originally coming from the Isle of Man.
I qualified in 1987 from Guy's Hospital Dental School, London.
Prior to my dental degree, I studied Physiology at King's College in London.
Since qualifying in dentistry, I have gained a Diploma in Postgraduate Dental Studies in Bristol 2001, and I studied dental implantology in Sweden and Sheffield from 1999-2001.
I was a vocational trainer of new dental graduates for 5 years.
At Linden we all believe in providing modern, ethical dentistry which has prevention at its core. My ethos is to provide friendly and relaxed dentistry, with the aim of putting patients at ease with treatment they choose in a way that dispels any anxiety.
I have been placing dental implants successfully in practice since 2001 and I firmly believe that this is just another branch of my general dental practice. Dental implants, while a great option for replacement of missing teeth for some people, may not be the best option for everyone. There are often several different treatment alternatives which I enjoy explaining to patients.
Teamwork within the practice is important to me and I am very proud of the team we have built up over the years
I have been married to Sally (joint owner of the practice) since 1990. We have three grown up children, Hannah, Harry and Matthew, and two dogs.
I fell in love with the sport of rowing when I was 14 at Maidenhead Grammar School (now Desborough College).
I still compete and coach, and I have a keen interest in sports science.
Back to Our Team