Great dental care has the potential to help amateur and professional athletes reach new heights with their training and achievements. Caring for athletes and their smiles is something we're passionate about here at Linden Dental.
Athletes have specific nutritional requirements and eating patterns which may increase their risk of some dental problems. Dental health plays an important role in general health, and for athletes any deterioration in dental health may translate into a dip in performance levels and time off training or competition.
We're here to support you with everything from general dental care and trauma management, to preventive care that's tailored to your needs as a sportsperson.
Preventive care
It goes without saying, that prevention is always favourable to cure, and we understand that being a keen sportsperson or professional athlete presents unique challenges when it comes to keeping problems like tooth decay and gum disease at bay. We can offer tailored support on how to manage the sugar in your diet (particularly from the consumption of energy drinks and electrolyte drinks) and outline the roles fluoride and mouth rinses play in keeping your teeth decay-free.
General dentistry
Investing time into caring for your teeth by attending routine appointments will help you stay at the top of your game. During your dentist and hygienist appointments with us, we will advise you on when to visit next depending on the health of your teeth, and spot problems such as cavities and tooth wear early and prevent them from progressing and harming your sporting trajectory.
Trauma management
Sustaining a dental-related injury during your sports career can be tough, both physically and emotionally. Traumatic injuries to the mouth can also cause symptoms like headaches and jaw aches and it's crucial to address these straight away. Bespoke restorations like bridges, crowns, tooth bonding and veneers can help restore tooth function, so you can perform to the best of your ability in your sport, Meanwhile bespoke sports mouth guards can protect your teeth from the risk of serious injury in the future. These are particularly important if you take part in contact sports and will protect your teeth significantly more than over-the-counter sports mouthguards which are uniform in size and therefore not able to absorb impact effectively.
Linden Dental – experts in sports dentistry
Here at Linden Dental, we've cultivated a reputation as experts in sports dentistry. Principal dentist at the practice Mark Shimmin has a background in rowing and has worked with athletes competing at school level, right through to Olympic level. We're very proud to work closely with several members of the GB Rowing team, supporting them with the evolving dental care needs. It's always great to see our patients achieving great things, and supporting them with their dental care is what we do best.
"Training full time for international rowing since 2007 definitely put my body under stress. I hadn't realised it had taken its toll on my teeth as well. Eating and drinking high calorie foods throughout the day had left me requiring quite a bit of work! Fortunately Sally and Mark at Linden Dental were able to fix my teeth at times that suited me, always going an extra mile to ensure the best work and care possible.
Since visiting Linden I have had no further dental problems as Mark taught me how best to care for my teeth, and it has made such a big difference! It's hard to imagine a more welcoming practice, and as a result Linden now looks after the dental needs of many members of the GB Rowing Team."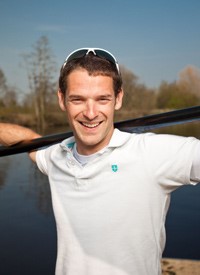 Chris Bartley
Olympic Silver Medalist LM4- London 2012